Nails
Neon Summer Nails 2023: 25 Ideas
Summer is the perfect time to experiment with bold and vibrant nail colors. And when it comes to making a statement, neon summer nails take the lead. Neon colors have been a fashion trend for decades, and they continue to reign supreme in the nail art world. From electrifying pinks to dazzling blues, neon summer nails are all about catching attention and exuding confidence. In this article, we'll explore 23 exciting ideas for neon summer nails in 2023, along with tips on how to achieve the perfect neon manicure.
Bright Yellow
Embrace the sunshine with a striking yellow neon nail polish. It instantly adds a pop of color to your fingertips and complements various summer outfits.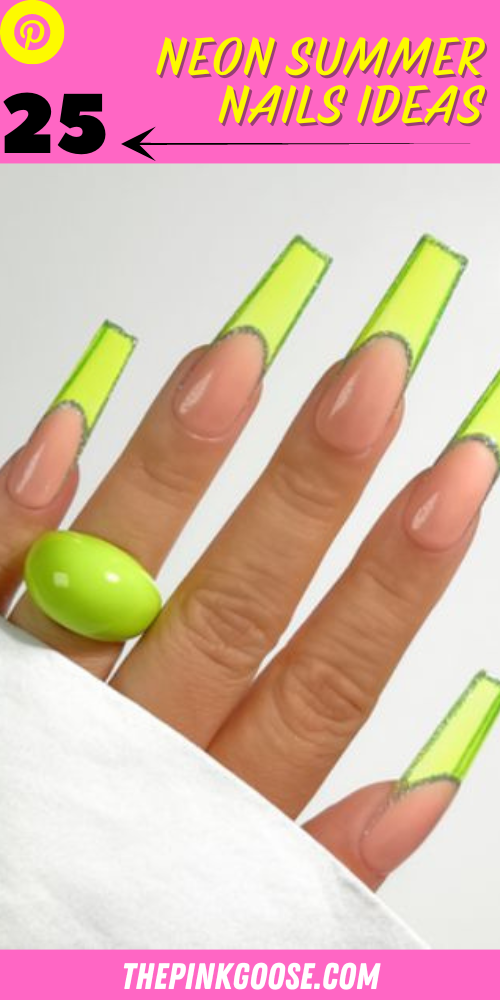 Vibrant Orange
Opt for a sizzling orange neon shade that radiates warmth and energy. It's a playful and trendy choice for summer nails.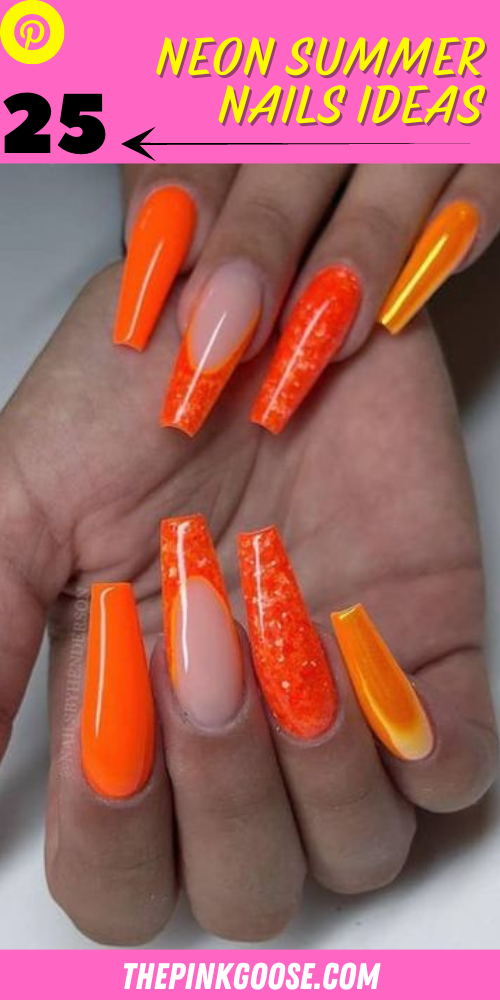 Electric Pink
Turn heads with an intense electric pink neon polish. This vibrant shade is perfect for those who want to embrace their feminine and adventurous side.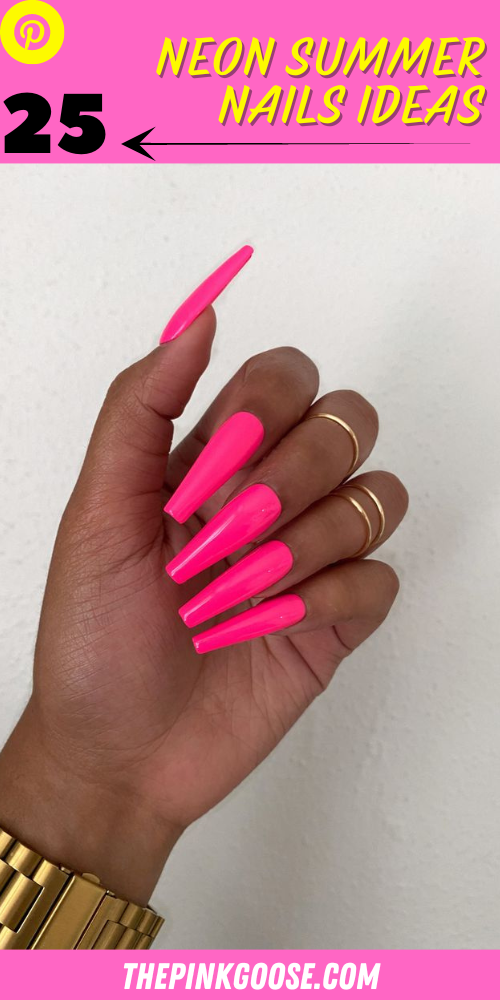 Neon Green
Go bold with a neon green shade that captures the essence of lush summer foliage. It's an eye-catching color that suits both casual and edgy looks.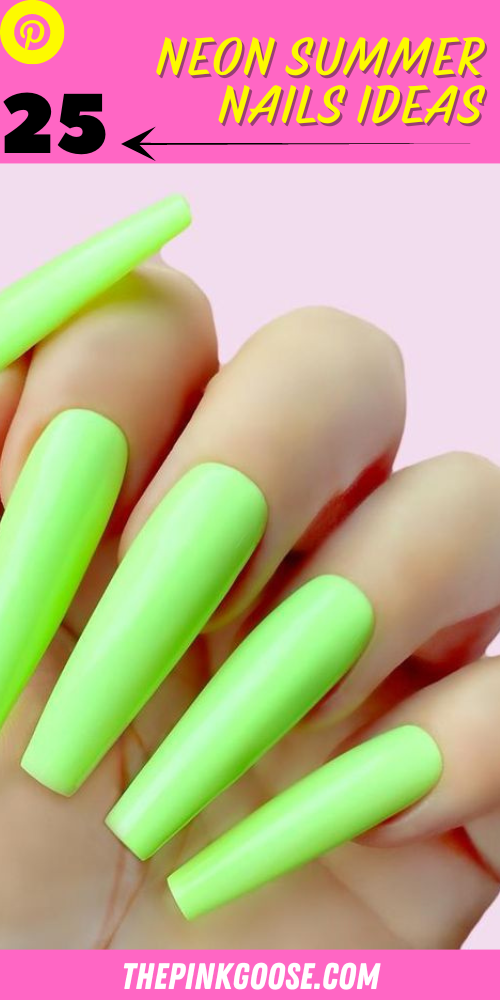 Bold Blue
Dive into the refreshing vibes of summer with a bold and electrifying blue neon polish. It's a cool shadethat adds a touch of tranquility to your manicure.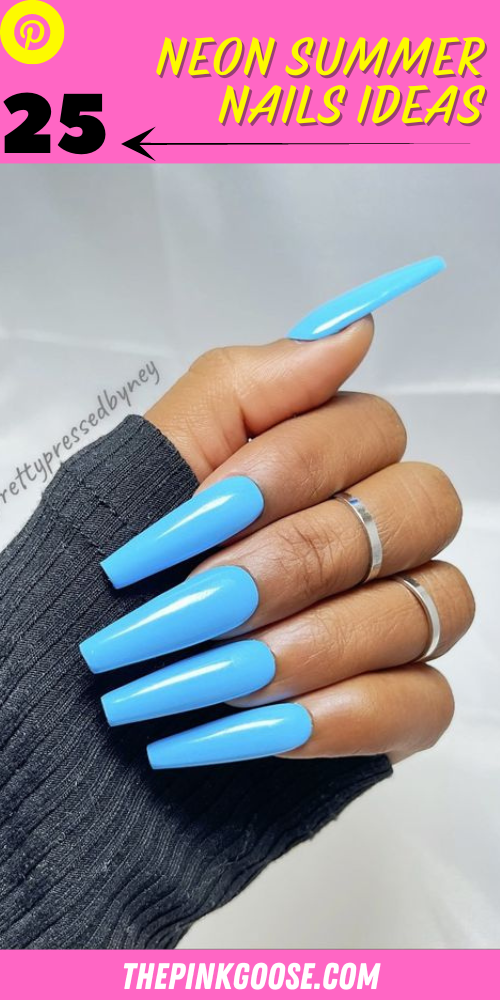 Radiant Purple
Create a mesmerizing look with a radiant purple neon nail polish. This color exudes elegance and adds a mystical charm to your nails.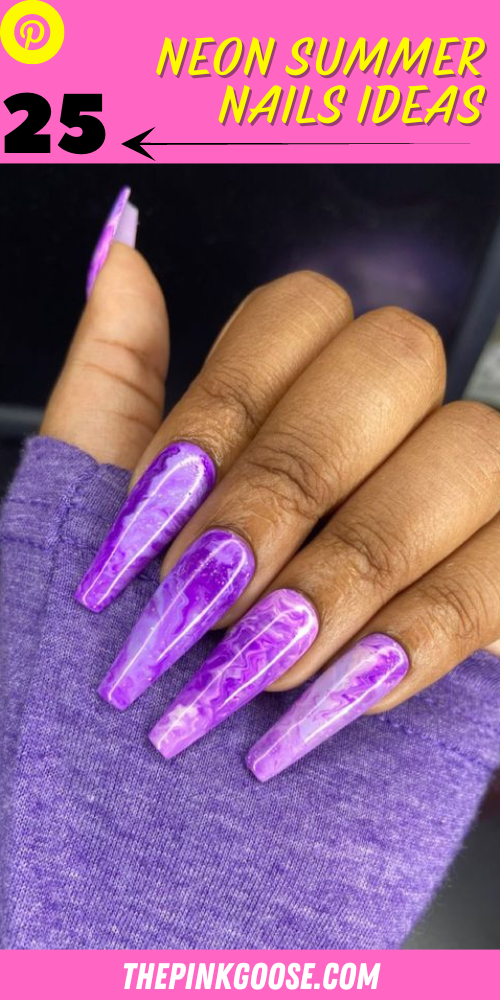 Abstract Patterns
Let your creativity run wild with abstract patterns. Use neon colors to create geometric shapes, splatters, or free-flowing lines for a unique and artsy look.
Gradient Neon
Achieve an ombre effect by blending different neon shades together. Start with a lighter base color and gradually transition to a darker shade, creating a stunning gradient effect.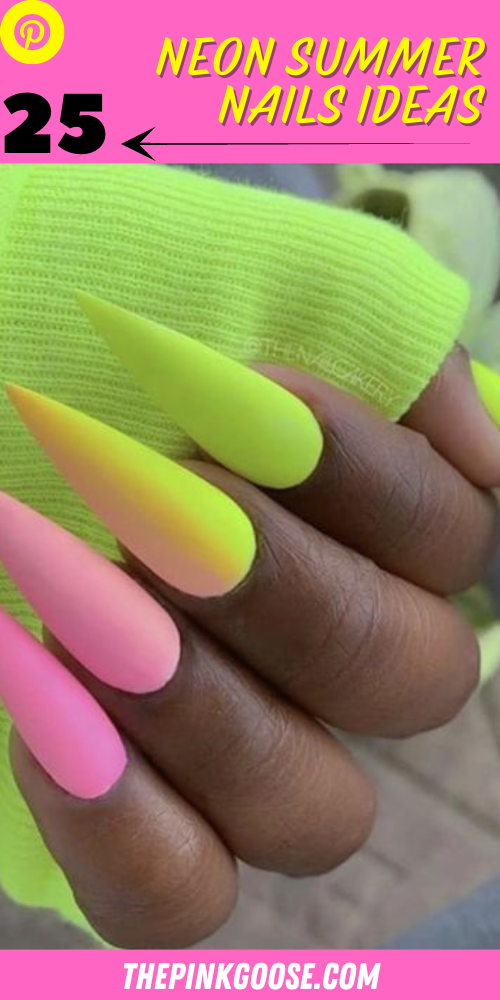 Neon French Tips
Give the classic French manicure a twist by using neon colors for the tips. Experiment with bold and contrasting combinations for a modern and eye-catching look.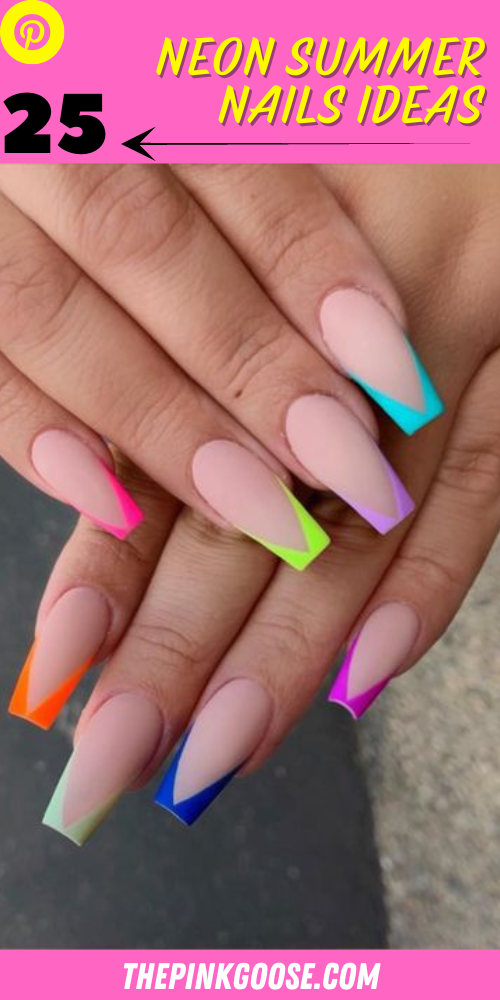 Tropical Vibes
Embrace the summer spirit with tropical-inspired nail art. Think palm trees, exotic flowers, and vibrant fruits. These designs will transport you to a tropical paradise.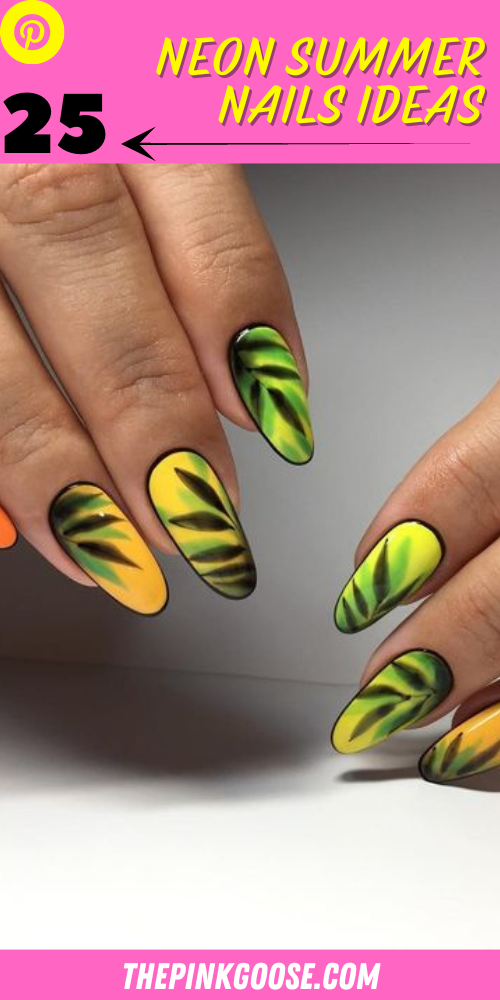 Geometric Neon
Incorporate geometric shapes into your neon nails for a contemporary and stylish look. Create triangles, squares, or chevron patterns using different neon shades.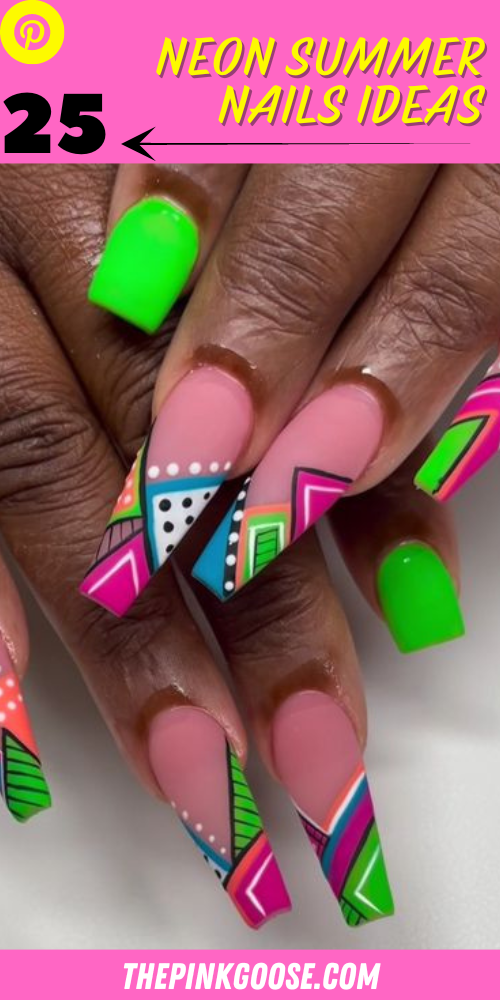 Neon Ombré
Blend two or more neon colors together seamlessly to achieve an ombré effect. This technique adds depth and dimension to your nails, creating a mesmerizing visual impact.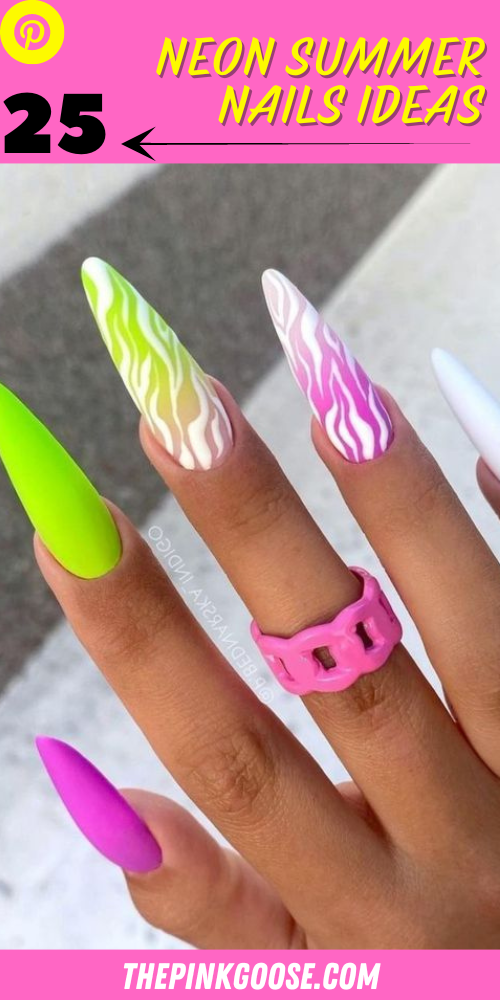 Coffin Shape
This elegant and tapered shape features a flat top and squared-off tips. It's a versatile shape that works well with neon colors, adding a touch of sophistication to your manicure.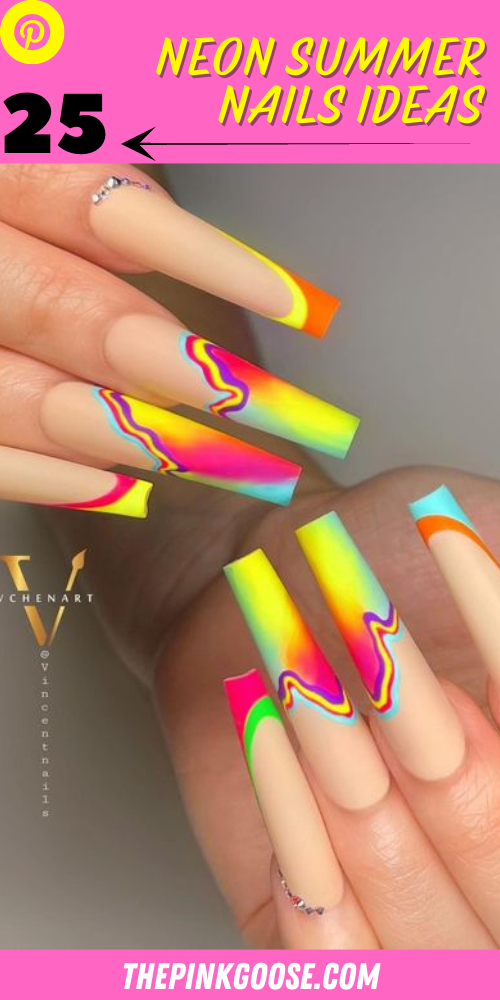 Almond Shape
The almond shape is slender with rounded sides and a pointed tip. It's a feminine and flattering shape that complements neon shades beautifully.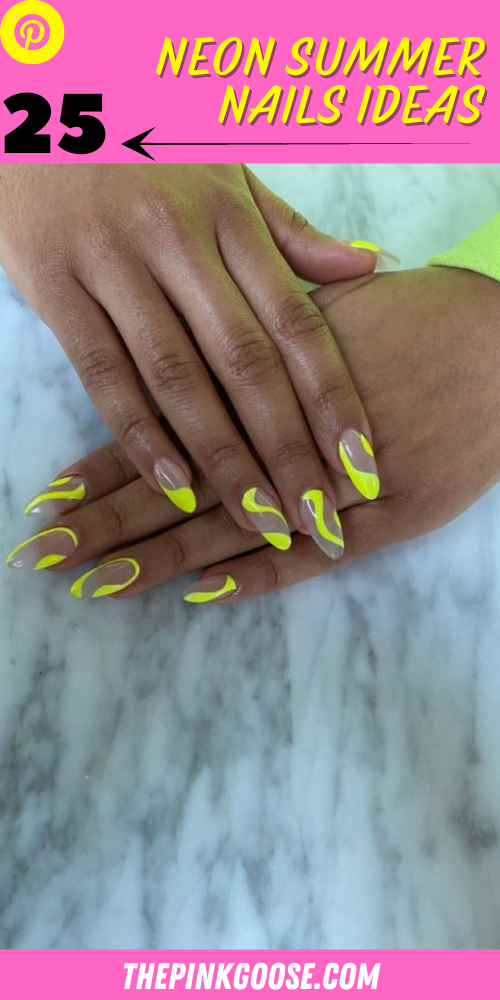 Stiletto Shape
Make a bold statement with stiletto-shaped nails. These sharp and dramatic nails create a fierce and edgy look, especially when paired with neon colors.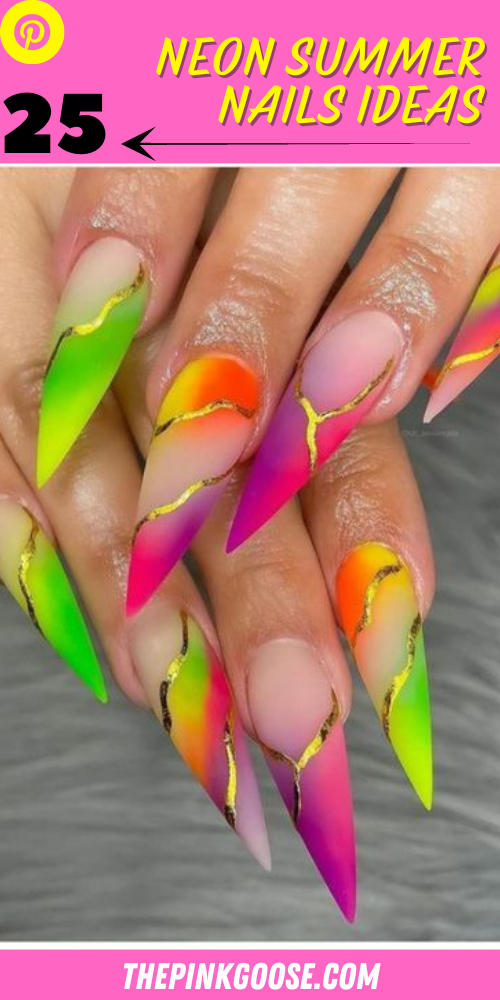 Square Shape
The square shape offers a classic and timeless look. It features straight sides and a flat top, providing ample space for showcasing vibrant neon hues.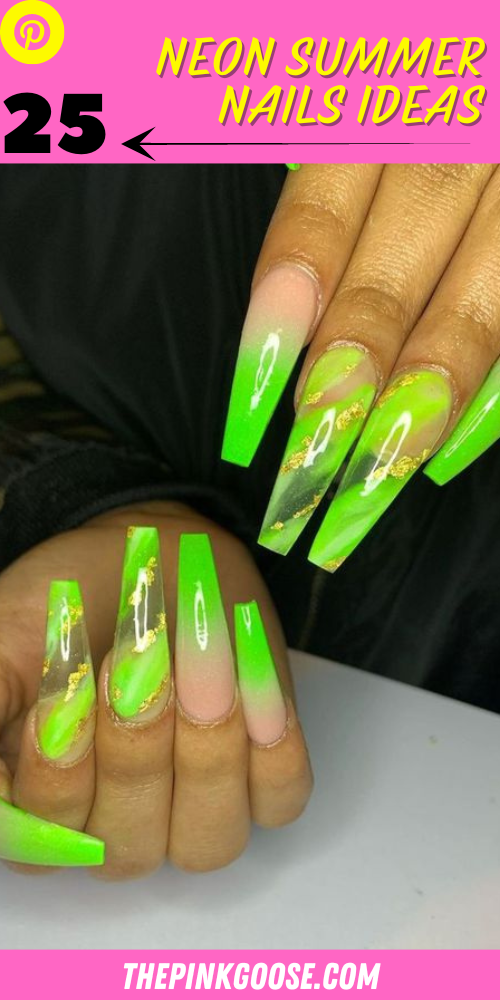 Oval Shape
If you prefer a more natural and subtle look, opt for the oval shape. It's a gentle and feminine shape that pairs well with any neon color.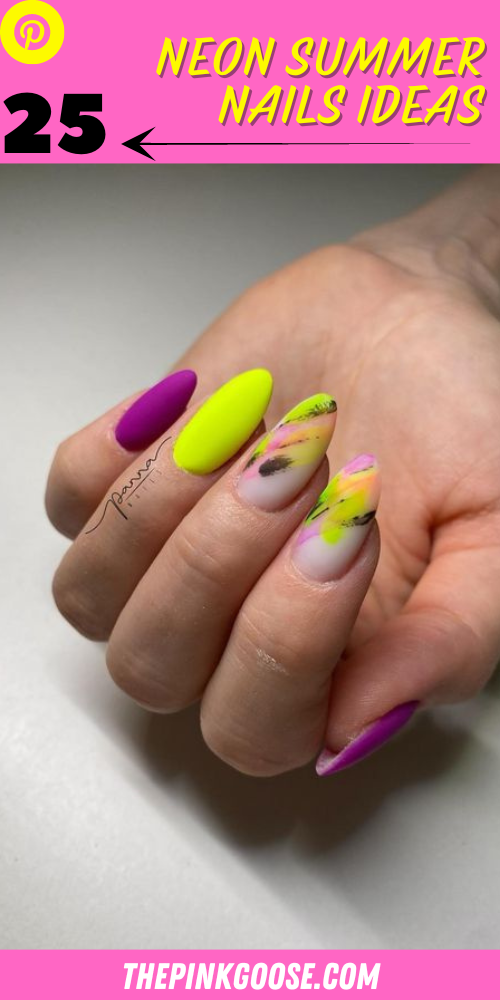 Beach Parties
Embrace the vibrant and carefree atmosphere of beach parties with neon nails in tropical shades. Think palm tree designs, sunset-inspired gradients, or seashell accents.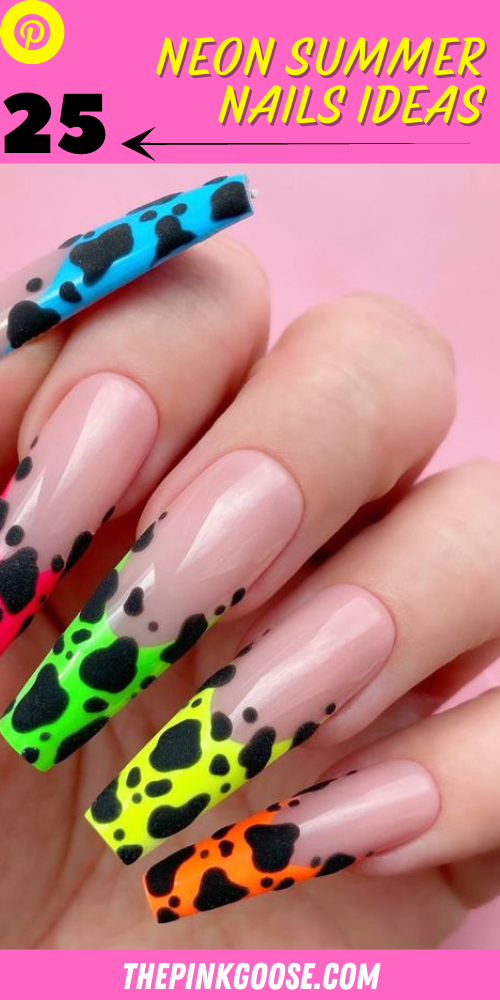 Music Festivals
Stand out from the crowd at music festivals with neon nails that reflect the energetic and eclectic vibe. Opt for bold and intricate nail art designs featuring neon colors and music-inspired motifs.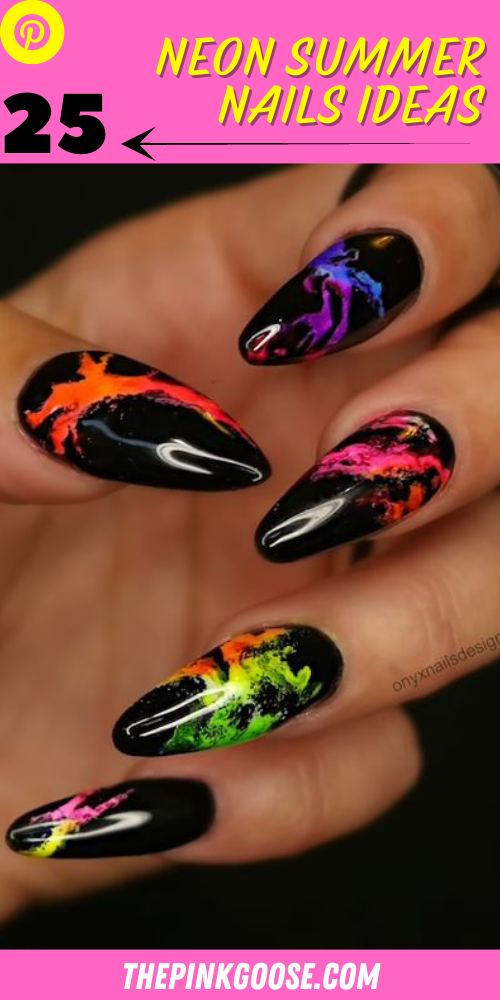 Poolside Hangouts
Complement your poolside attire with neon nails that enhance your summery look. Choose neon shades that complement your swimwear, such as vibrant blues, greens, or corals.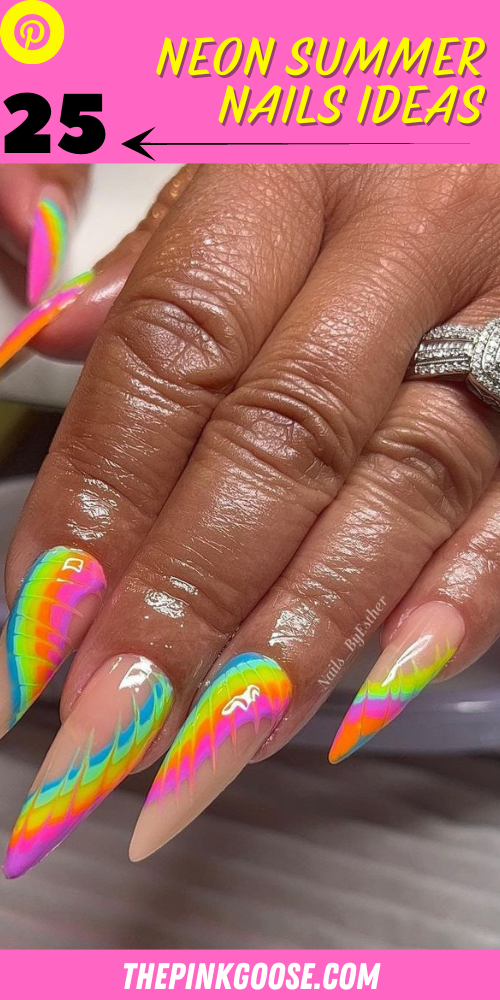 Summer Weddings
Add a pop of color to your wedding ensemble with elegant and sophisticated neon nails. Opt for pastel neon shades or incorporate subtle neon accents into your nail art.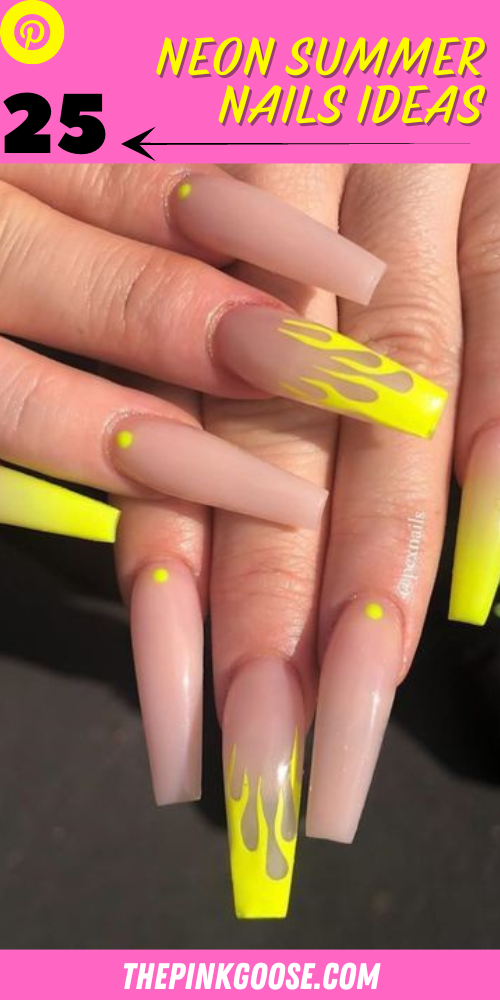 Casual Everyday Look
Neon nails are not limited to special occasions. Incorporate neon shades into your everyday look for a fun and trendy style. Consider neon French tips, simple geometric patterns, or single neon accent nails.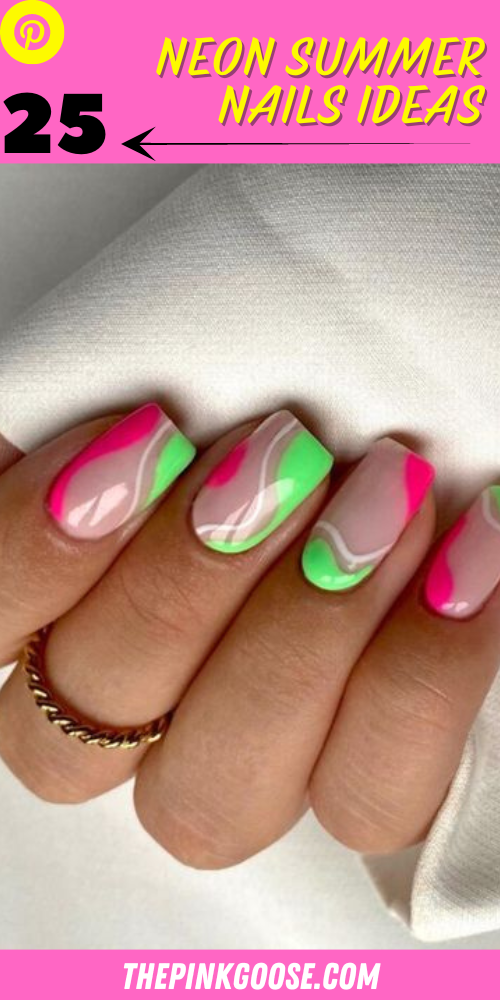 Fair Skin
If you have fair skin, opt for neon shades with cool undertones, such as bright pinks, purples, or blues. These colors create a striking contrast and make your skin appear more radiant.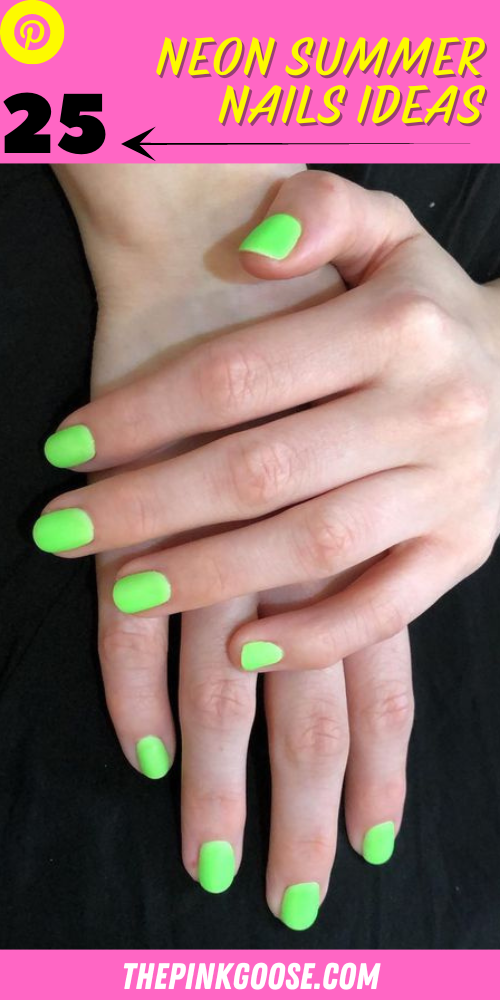 Medium Skin
Warm neon shades like oranges, corals, or yellows work well with medium skin tones. These colors enhance your natural glow and add vibrancy to your overall look.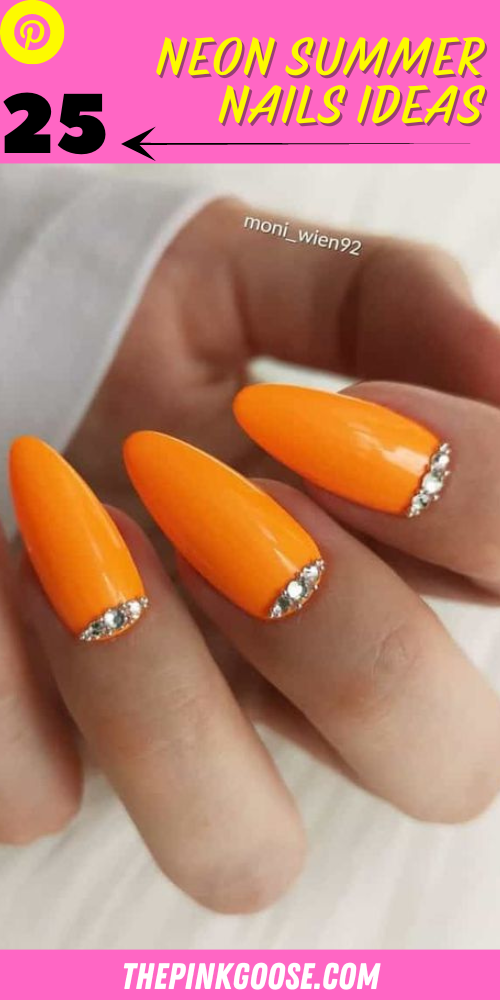 Dark Skin
Deep and rich neon shades like electric blues, emerald greens, or intense